What Wigtown Needs - Complete our Survey Online
W&BCI is asking what you think we should do next. We are keen to hear from all age groups.
What does Wigtown need? Are there areas or buildings that you think would benefit from community development? What services/activities are needed in Wigtown and Bladnoch? Would a multi-purpose venue be useful? What should happen there? Do you have any other comments or ideas?
21 North Main Street
Thank you to the Galloway Gazette for reporting the initial meeting to consider our community purchase of the soon to be defunct Bank of Scotland Building in Wigtown.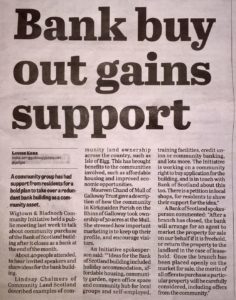 Current Projects