What Wigtown Needs - Complete our Survey Online
W&BCI is asking what you think we should do next. We are keen to hear from all age groups.
What does Wigtown need? Are there areas or buildings that you think would benefit from community development? What services/activities are needed in Wigtown and Bladnoch? Would a multi-purpose venue be useful? What should happen there? Do you have any other comments or ideas?
Projects
The Royal Burgh of Wigtown Community Council decided to make no submission in regard to 3b planning
application at their meeting on Monday 8th Jan 2018.
The deadline for public submissions has now passed. 16 individual objections have been lodge via the comments and formal documents process.
Other statutory opinions still coming in to the Planning Authority. D&G Council Planning Applications Committee will consider application in
due course.
3b were requested to supply additional information on four areas by D&G Planning:
The detail of the site sections provided:
Details of Cut and Fill on the site:
Vehicle tracking for the site for refuse vehicles:
Affordable Housing proposal and provision thereof.
3b Construction have submitted a formal application for planning permission at the Old Showfield.
3b Construction proposes to build 43 houses with associated roads, parking,
landscaping, etc.
Details of the application can be found on line www.dumgal.gov.uk/planning
use the "search planning applications" link, and enter reference: 17/1984/FUL.
The Library should have a copy of the application as well. D&G Council will
make a decision about this application in the next few months.
Anyone is entitled to have their say about this.
Speak to your D&GC Councillors.
Write to the Planning Department by December 7th planning@dumgal.gov.uk or
Planning Dept., D&G Council, Kirkbank, English Street, Dumfries DG1 2HS.
If you live in Wigtown & Bladnoch and support us, please sign the petition at the following venues:
The Post Office,
Scads,
Machars Action,
Beltie Books.
The petition DOES NOT make a commitment to buy; it only seeks to establish the right to buy. If the property was made available for sale, a full community consultation and ballot would be required for WBCI to proceed with an actual purchase.
Please note this is a statement of your support, and NO financial commitment is required.
Wigtown & Bladnoch Community Initiative is a community led company limited by guarantee that is proposing to apply to register a community interest in 21 North Main Street Wigtown. This would give the community first option to purchase the property if it was put on the market.
Following the successful public meeting where future uses for the bank building were discussed, we are now developing a strategy to take forward the ideas and deliver the best resource we can for the community.
Themes from the public meeting included:
desire for community facilities such as bank, click & collect depot, ATM;

affordable housing;

cheaper accommodation for visitors;

book museum,

indoor market place (year round version of Kist).

bank building to support and promote local businesses, like a co-operative;

workshop space;

renewable energy sources incorporated;

community use of the garden.
Thank you to the Galloway Gazette for reporting the initial meeting to consider our community purchase of the soon to be defunct Bank of Scotland Building in Wigtown.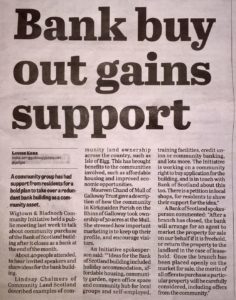 The Scottish Government has accepted the community interest in the Old Showfield.   This does not mean that we can go ahead with our plans for the site, only that if the current owners, 3B decide to sell the site then the community has the first refusal to purchase it at current market value.
Our interest in the land will be registered for 5 years. Watch this space…
Current Projects