21 North Main Street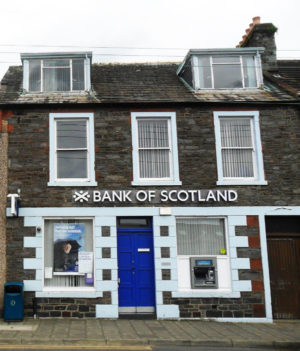 Wigtown & Bladnoch Community Initiative has a registered Community interest in 21 North Main Street, Wigtown – the former Bank of Scotland building.
What is proposed for the building?
After public meetings, and work with a range of groups and organisations in the area, run by W&BCI with expertise from Community Enterprise, the favoured proposals for the building are:
Affordable flats – convert upstairs into a family size affordable flat; and convert the back part of the ground floor into a fully accessible one bedroom affordable pensioner flat.  These tenancies would be for people with local connection; our research has shown that there are lots of people struggling to find good affordable accommodation in the town, so this would help.
Bunkhouse and community space – convert the main "retail" area of the bank that opens off the square into a bunkhouse for visitors with an internet hub.  Similar to the bunkhouse idea at the Barholm Arms in Creetown, affordable holiday accommodation for pilgrimage, walkers, cyclists and so on is lacking in Wigtown. And at busy times, there is just not enough holiday accommodation in the area.  Offering maybe 8 bunkhouse beds would mean that more people can stay in the town, and they'd shop and eat and drink at local businesses as they appreciate our wonderful town and the surrounding Machars countryside.  Also, we hope we might be able to get some community banking into the internet hub part time, because a lot of people have told us that some sort of banking would be a real bonus for the town, as well as being a link back to what the building has been used for, for decades.
These ideas come from the local community.  The bunkhouse idea is different from what other businesses and organisations do in Wigtown and Bladnoch.  There would need to be work done on the building whatever is decided, but for these proposals it looks like there could be several sources of funding to get the work done.  And once it's up and running, there will be some income which means we should be able to create some employment such as helping to manage and clean the bunkhouse.
Please help us Let Wigtown Flourish.  Can Wigtown bank on your support?
Updates and Information:
Register interest in Community Owned Accommodation : 13th October 2020
Register of Interest Wigtown Community Owned Housing Wigtown & Bladnoch Community Initiative (WBCI) has bought the former Bank of Scotland building at 21 North Main Street, and are now developing…
Final Grant Funding in place : 26th August 2020
Wigtown and Bladnoch Community Initiative are pleased to announce funding has been approved from the RURAL HOUSING FUND (RHF) for £146,119.50 to support the redevelopment of the former Bank building…
Planning Application submitted : 17th May 2019
We successfully completed the purchase of 21 North Main Street, Wigtown at the end of January and went straight to work with the architects to finalise the plans ready for…
GoFundMe to raise 5% of purchase price : 13th November 2018
We hoped that the Bank of Scotland might assist the community purchase by agreeing a discount on the purchase price but they have declined. The Initiative therefore needs to raise…
Town Centre Living Fund Application Success : 7th September 2018
The intention of this fund is to increase the supply of affordable housing in the regions town centres and settlements by bringing empty properties back into use. The former Bank…
Public Ballot Results : 12th August 2018
The Votes have been counted and the result was as follows: In Favour : 226 Against: 51 We now await the decision of the Scottish Government to see whether the…
Stage one funding from the Scottish Land Fund : 21st May 2018
The Scottish Government's Scottish Land Fund has awarded Wigtown & Bladnoch Community Initiative stage one funding from the Scottish Land Fund.  The money is for developing detailed proposals for the…
Register of Community Interest Confirmed for Old Bank of Scotland : 11th January 2018
Just before Christmas we received official notification from the Scottish Ministers that they had decided that the community's interest in the former Bank of Scotland branch in Wigtown should be…
Signatures of support required : 11th September 2017
If you live in Wigtown & Bladnoch and support us, please sign the petition at the following venues: The Post Office, Scads, Machars Action, Beltie Books. The petition DOES NOT…
Bank of Scotland feedback from the public meeting : 11th September 2017
Following the successful public meeting where future uses for the bank building were discussed, we are now developing a strategy to take forward the ideas and deliver the best resource…
Current Projects