What Wigtown Needs - Complete our Survey Online
W&BCI is asking what you think we should do next. We are keen to hear from all age groups.
What does Wigtown need? Are there areas or buildings that you think would benefit from community development? What services/activities are needed in Wigtown and Bladnoch? Would a multi-purpose venue be useful? What should happen there? Do you have any other comments or ideas?
The Showfield – Wigtown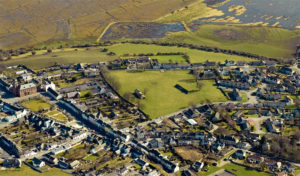 The Old Showfield on Southfield Lane has stood empty and neglected for nine years. Wigtown & Bladnoch Community Initiative has been formed to regain community ownership of the Showfield. We feel that it would greatly enhance Wigtown.
Initial ideas for the future use of the Showfield have included affordable housing and business units, an area for outdoor events with space for a marquee and parking, a community orchard and various projects.
Using Community Right to Buy legislation, the Scottish Government has given us the right to buy the land if the current owners put it on the market.  If that happens, we would apply to the Scottish Land Fund for a grant towards the cost.  Unfortunately the owners, 3b construction, have a planning application for 43 houses (of various sizes) for the old showfield.  For the present, therefore, we are waiting to see what the Council decides about their application.
Updates and Information:
NEW Planning Application Submitted by 3b : 26th February 2018
3b have submitted a new planning application of the Old Showfield, which is for the same number of houses as the previous application, and looks to be exactly the same.…
3b Showfield Application Update : 10th January 2018
The Royal Burgh of Wigtown Community Council decided to make no submission in regard to 3b planning application at their meeting on Monday 8th Jan 2018. The deadline for public…
3b Showfield Application Submitted : 6th December 2017
3b Construction have submitted a formal application for planning permission at the Old Showfield. 3b Construction proposes to build 43 houses with associated roads, parking, landscaping, etc. Details of the…
Community Interest Application Accepted : 13th August 2017
The Scottish Government has accepted the community interest in the Old Showfield.   This does not mean that we can go ahead with our plans for the site, only that…
Current Projects